Got Mojo?
Challenge 15 was to use fashion as inspiration and to use tape on the layout. So, here's mine:
My fashion inspiration was the winning design of Project Runway Season 3 by the ever talented
Jeffrey Sebelia
. The green one was the page's muse, if you couldn't tell.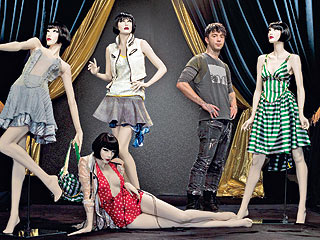 I used this awesome packing tape as "trim" on the page. I just adhered it to the yellow Basic Grey paper and cut it into itty bitty strips.